Blog
Beyonce's Fashion Stylist, Newheart Ohanian, will discuss creating the revolutionary Lemonade Album
Posted on
For the past 12 years, Newheart Ohanian traveled around the world to "style" for top fashion magazines and work with many celebrities. One of her latest projects had her working with Beyonce on her ground-breaking project, "Lemonade".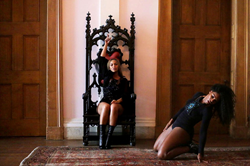 Beyonce and Serena Wiliiams
"It was the most amazing experience. It proved to myself that I was ready for the world,"
Newheart Ohanian has built up a diverse group of clients, including Amazon, Capitol Records, MAC Cosmetics and many international publications, such as Harper's Bazaar, Marie Claire, Vogue and Elle. She works as a celebrity stylist, as well as a creative collaborator on film projects. Her star already was on the rise, but "Lemonade" has brought increased visibility and attention. Brought in by the director, Kahlil Joseph, Ohanian styled the celebrity co-stars, such as Serena Williams, Quvenzhane Wallis, Zendaya and more, for several of the scenes in the one-hour HBO film that accompanied the record's release.
She will be the special guest at a fashion night presented by the New England Fashion+Design Assoc. from 6 to 8 p.m., Thursday, March 23, at ArtsWestchester Bldg., 31 Mamaroneck Ave., White Plains, N.Y. She will share her story, insights and advice about her career and latest projects, during a Q&A with Irina Simeonova, founder of the association, which has locations in White Plains, N.Y. and South Norwalk, CT. There also will be a fashion show, demonstrating the work of the students in the association's Junior Fashion Design Academy.
"It was the most amazing experience. It proved to myself that I was ready for the world," said the New York City-based designer of filming of "Lemonade," the 2016 HBO film that accompanied the superstar's record release. "It was magic when we were there. I remember thinking that everything was happening so quickly that I didn't have a moment to breathe. I was deeply honored to be a part of such a project. It was a moment I will never forget."
During her appearance at ArtsWestchester, she hopes to impart some of the lessons she has learned and wisdom she has earned while working in the fashion industry. She is forthright and honest in her approach, and hopes to guide aspiring fashionistas with solid advice – listen to yourself, be determined in your approach and find a way to do the job you love. "I graduated from school, got a job and thought it was going to be all happily ever after," she says. "But there were upsets and difficult moments … but I was super blessed because I kept searching. I had a tenacity about where I was going and what I wanted to be. I was going to find it no matter what … I wasn't going to give up."
For more information about Newheart Ohanian, visit http://www.newheartnyc.com
Event location:
New York City stylist Newheart Ohanian will be the guest for a fashion stylist talk by the New England Fashion+Design Assoc. from 6 to 8 p.m., Thursday, March 23, at ArtsWestchester Bldg., 31 Mamaroneck Ave., White Plains, N.Y. (914) 222-5220
Tickets are $7-25 and available at http://bit.ly/2lG5JO7
comments powered by

Disqus